"Goes to Show You What a Moon Can Do 2009 Lunar Calendar" by Alec Thibodeau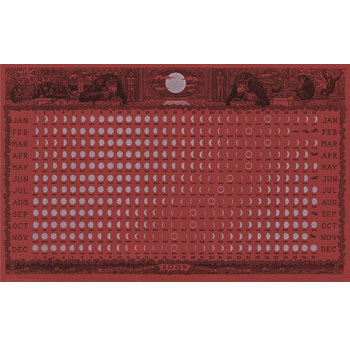 "Goes to Show You What a Moon Can Do 2009 Lunar Calendar" by Alec Thibodeau
December 9th, 2008
Letterpress Print Series
"Goes to Show You What a Moon Can Do 2009 Lunar Calendar"
Alec Thibodeau
Sold out edition of 750.
19" x 11.75"

Lunar Caledar KeyAlec Thibodeau's "Goes to Show You What a Moon Can Do" is an edition of 750 lunar calendars detailing the 365 phases of the moon for 2009. The calendar is based on the skies of Providence, Rhode Island but will function accurately anywhere in the Eastern Time Zone and to within a day of accuracy for any location in the Northern Hemisphere. Special illustrations represent New Moon, First Quarter Moon, Full Moon and Third Quarter Moon for each four week cycle. Clouds serve as placeholders in months with fewer than 31 days.
The letterpress print was produced on an archival recycled Cranberry Passport Felt printmaking paper by Dan Wood of DWRI Letterpress. The moons have been printed using metallic white/silver and white inks. The edition number has been debossed into the print in a 14 pt. Bernhard Gothic Medium Condensed.
 
sold out